Hey all, long time no see haha!

I'm so psyched to finally get these two on my blog. Savanah and I were childhood neighbors and it was an absolute honor to get to photograph her wedding day in our hometown. I asked Savanah some questions about her day and will be adding those in throughout the photos. Be sure to read all the way to the end to find out the advice she has for engaged couples!
Tell me a bit about your wedding details and why you chose them!
My bouquet was wrapped in lace from my moms wedding dress, it even had the buttons from her sleeves which I loved! We decided to can strawberry jam as our favor! We did it together with help from family so it was a fun day all together working on them! Another special part of our day was the memory table where we had framed photos of loved ones that we have lost. Each of them holds a special place in our hearts so it was important to us to honor them that day.

We wanted to keep things simple, elegant and romantic. I kept to soft colors, mainly soft peach, gold and greenery. I'm obsessed with eucalyptus so our center pieces had all eucalyptus and we had a beautiful table runner all done by Memories in Bloom. My bouquet was beautiful and I loved it so much. It was exactly what I had envisioned. I also hired Laura Hylton as our wedding coordinator who set the whole venue up for us and made the two floral arrangements on stage.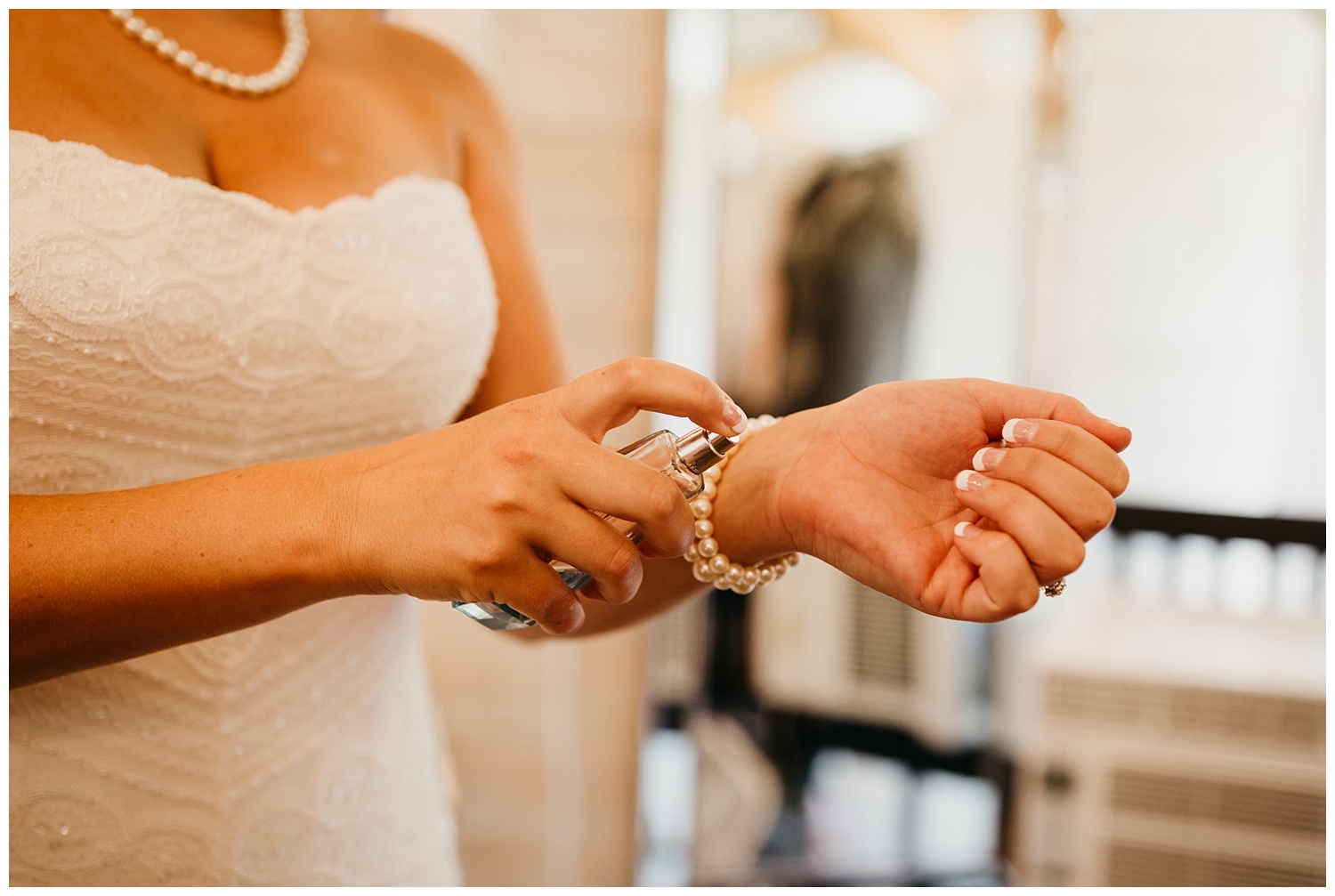 How did you two meet?
Jonnel and I met camping the summer of 2012 in Chehalis. We already knew it each other from high school but connected that weekend out at Thousand Trails. We began dating the summer 2012 , did long distance for a bit when Jonnel went back to Western to start his Masters program. I eventually moved up to Bellingham where we lived for 2 years together. He graduated with his masters and I was accepted into a dental hygiene program in Yakima so we did long distance again - myself in Yakima and Jonnel in Lacey. He proposed March of 2016, halfway through my program. He took me back to Bellingham for a weekend getaway. We went down to our favorite little beach, where he had told me he loved me for the first time, had the camera all set up and proposed right there on the beach in the exact same spot as our first "I love you".
Who wore what?
Jonnel wore a dark grey Michael Kors suit with the gold tie and pocket square from Bartels in Chehalis. I also gifted him a new watch for his wedding day gift that I had engraved that he wore. I love the suits that him and the groomsmen wore. Bartels did a great job. I wore a gown/veil by Wtoo from Ania Bridal in Portland Oregon. My shoes were Betsy Johnson. My bridesmaids were in dresses from Doria's in Centralia Wa.
Ceremony Details
We decided to write our own vows to each other and read them during the ceremony. (Holding back tears) I never thought I'd be able to read personal vows out loud without totally losing it but we did it! :) Everything went perfectly! Our pastor also asked us to give her a list of reasons why we love each other so we were able to incorporate those into our ceremony as well which was really special. We had our niece and two nephews in our wedding party. They did such a good job, even though one didn't make it down the isle, it made for a good laugh and some cute photos. It was truly the best day of our lives and we wouldn't have changed one thing about it.We were surrounded by so much love and support by our friends and family, we couldn't have asked for a more perfect day.
Cake Cutting and Desserts
Our cake was made by Stacy Piper and her daughter. It was beautiful and tasted just as good! We hadn't planned on shoving cake in each others faces but in the moment it sounded like fun! So I went for it and he got me back just as good! It was such a fun memory for us to look back on and again the pictures are the best!
How was your photographer?
Our photographer was AMAZING! Obviously! We could not have picked anybody better to capture our day! Our engagement session at Mt Rainier was breathtaking and we both felt totally comfortable with you taking our pictures after our many photo shoots together! There really was no question we had to have you!
How did you find and choose your venue?
My family is friends with the owners of The Orchard at Sunshine Hill so we heard of it through them. We both knew we wanted an outdoors wedding in the summer and we loved all the natural beauty that the venue had with the trees, fields, and the view over looking the valley with Mt Rainier. It fit our style and the look we were going for perfectly! I feel that it has a very romantic feel to it with all the cafe lights in the trees and all the candles I had so it was all just perfect.
Advice for engaged couples
Don't sweat the small stuff! Everything will end up being amazing because it's your wedding day and once the day is there all you care about is marrying your best friend! So enjoy your big day and take it all in!
Vendor Team
Photographer: Leesha King Photography
Florist: Tracy Furey / Memories in Bloom
Cake and other Desserts: Stacey Piper
DJ/Band: DJ Fresco
Hair/Makeup: Allison Peck / Geah Strohbach / Tara Keller
Catering: Rob's Smoking BBQ
Gown: Ania Bridal / Portland, OR
Bridesmaid's Dresses: Doria's / Centralia, WA
Men's Attire: Bartels / Chehalis, WA
Planner: Lora Hylton
Officiant: Vicki Judd
Favors/Gifts: Homemade Strawberry Jam
Other: BK Photo Booth / Ashmore Family Beer Trailer